One of the benefits of buying in Vietri is that you may be able to buy entire sets of dinnerware and have them packed and shipped immediately. If you visit ceramic shops in Florence, for example, you will pick out a design and place an order, then wait six months or more for production and delivery.
The Vietri styles change from year to year. In 2001 we bought a couple pots with a repetitive geometric pattern obviously influenced by Islamic art. By 2002 almost none of these patterns exist. Perhaps it is a post 9/11, anti-Islam backlash thing, but it is also due to a yearly shift in designs. If you see what you like and can afford it, don't wait until next year. Unless it is a stock design, (and how would you know unless you live there,) it may not be there next time you visit.
You will find that most shops carry certain stock patterns, but each of the shops have a few patterns that are unique to them. One of these is Ceramica Iovine Antonio, located a short walk down Via Mazzini. While most Vietri pottery is made with bright colors on a white background, this shop specialized in carved patterns colored with muted colors on dark backgrounds. The result looks like died leather or stained wood, and is in stunning contrast to the ordinary pots. Another shop we like is Ceramica d' Arte Pisapia, located at Corso Umberto 92. They sell a style of plain glazed pot with either a matte or a glossy finish. We find the pots to be stunning, and unlike the more vibrant Vietri pieces they blend well with almost any decor.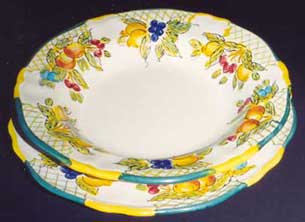 I already mentioned Verena Ceramica and Giovanni, but I'll mention it again. The plates pictured on this page came from his shop, and come with the edges trimmed in green, blue, red, and even pink. Some of these designs are made in their factory, but sold in Ravello and Positano for much higher prices. They are located on Corso Umberto just two doors up from Ceramica d' Arte Pisapia.
The shops begin opening around 10:00 A.M. and most close down around 1:00 P.M. for riposo, the Italian version of the Spanish siesta. (The Spanish no longer widely practice the siesta, by the way.) This is a good time to eat lunch. Don't rush it, you've got about three hours before the stores open back up. Might I suggest you try Ristorante La Locanda, located at Corso Umberto 52. It is air conditioned, you can get a (mostly) English language menu, and the food is good. You could also try the pizzaria or the ristorante located near the top of Corso Umberto across from the main piazza.
You can find good examples of the Maiolica style from Tutto Benne Imports and Peppercorn, although the prices are much higher than the prices in Vietri. Most of the tableware available on the Peppercorn site is from Deruta, not Vietri sul Mare, (not that it's a bad thing, but I'm not telling you about Deruta.) You should also check out Artistica Italian Ceramics, a good resource with more reasonable prices. The Artistica examples of Vietri dinnerware are disappointing---you can find much more beautiful ceramics in Vietri. But the prices are less than you'll find in many brick and mortar shops selling Italian pottery. For example, an umbrella stand I would pay $100 for in Vietri sells for $338 from Artistica Italian Ceramics. I found something similar in a Georgetown store for $650. It's not just the markup---you are paying for shipping and customs fees.
If you just want a little taste of Italy, buy from any of the preceding merchants. The prices would be higher than you would pay in Italy, but would still be less than you would pay for your trip here plus the shipping and customs fees.
[ Home ] [ Up ] [ Shopping in Vietri ] [ Getting to Vietri ] [ Pictures ] [ About Town ] [ Maiolica Links ]
You can view the Stars & Stripes Travel pages about Vietri here. I've copied them here.
Please sign our guestbook
Last edited on May 21, 2004